Lunch & Learn: A History of Equestrian Life in Wellington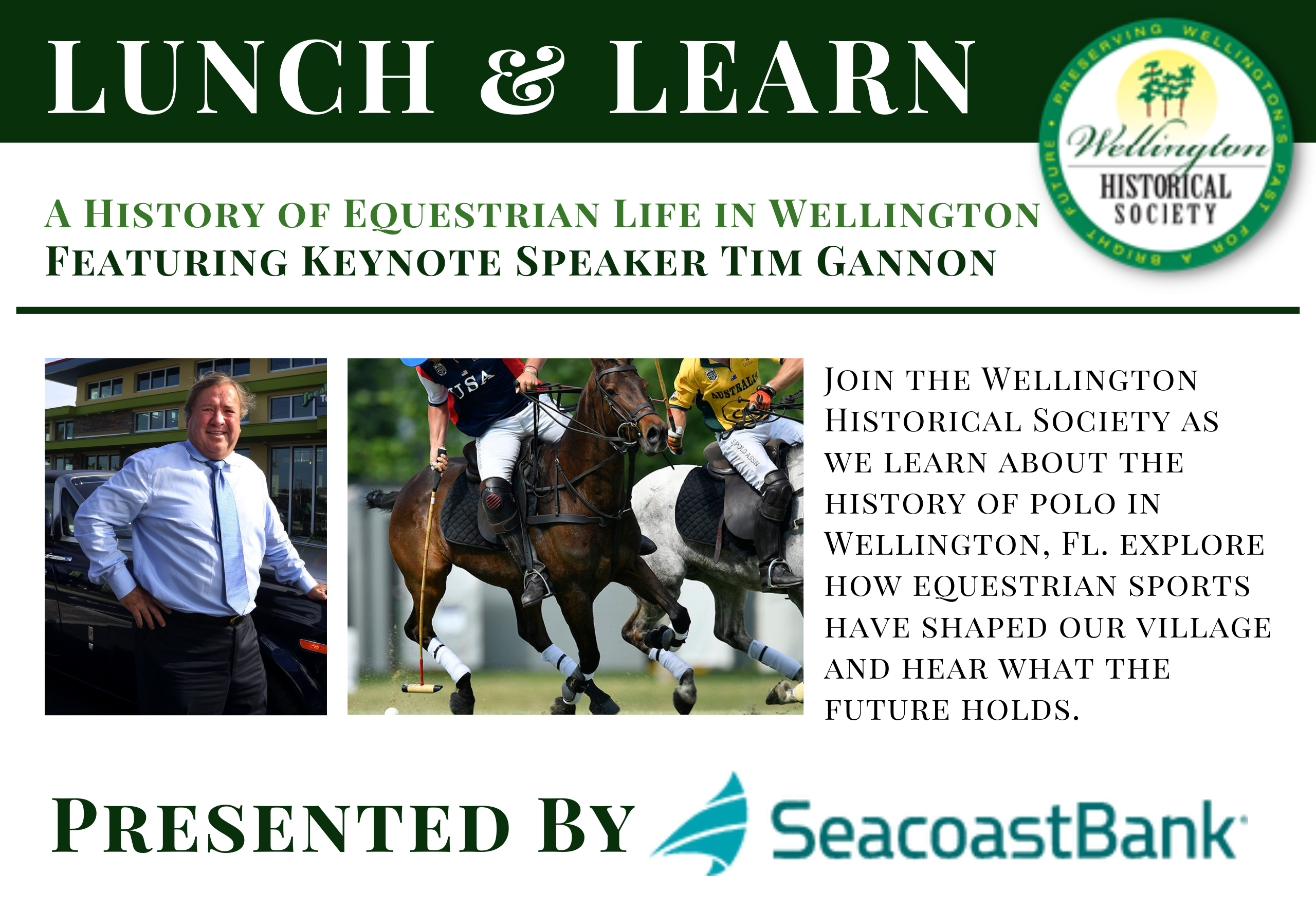 Start time
2023-01-18 11:45
Finished Time
2023-01-18 13:00
Address
3667 120th Ave S, Wellington, FL
Content
Wellington Historical Society's Lunch & Learn features A History of Equestrian Life in Wellington with keynote speaker Tim Gannon, presented by Seacoast Bank
Tickets available here.
The Wellington Historical Society will present a History of Equestrian Life in Wellington with featured speaker Tim Gannon at its next "Lunch & Learn" on Jan. 18, 2023.
Gannon may be better known as co-founder of Outback Steakhouse, but in polo circles, Gannon and Outback were synonymous with polo since the 1990s. A polo player since 1992, Gannon is considered one of the greatest sponsors of the game. And during the 1990s and early 2000s, the Outback Polo Team won five U.S. Open Championships, winning three back-to-back in 1999, 2000 and 2001. In 1999 the United States Polo Association named him Sponsor of the Year.
The lunch event takes place from 11:45 a.m. until 1 p.m. in the Mallet Grille at the National Polo Center, 3667 120th Avenue South. It is the location where Gannon and Outback were crowned polo champions when the facility was then known as the International Polo Club.
By the time Gannon picked up a mallet, he had made an indelible mark in the restaurant industry, having founded Outback Steakhouse in 1987 with partners Bob Basham and Chris Sullivan. The "food guy" of the trio, Gannon developed Outback's iconic "Bloomin' Onion" recipe and several other dishes on the Outback menu. In 2006, Gannon co-founded OSI Restaurant Partners, an operator of Outback, Carrabba's Italian Grill, Bonefish Grill, Roy's Restaurant, and Fleming's Prime Steakhouse & Wine Bar restaurants. In 2016, Gannon and his son, Christopher, created and opened Bolay, a fast casual restaurant with a chef-inspired, gluten free menu.
Last year, Gannon returned to polo in a new role as chairman of the Wellington Polo Tour. He also serves as chairman of the board of a US Polo Association subsidiary in charge of hospitality services at the National Polo Center. USPA acquired the former International Polo Club.
At the luncheon, Gannon will talk about the history of polo in Wellington, how equestrian sports shaped the community, and he'll provide some insight into the future of Wellington's equestrian life.
The event continues Wellington Historical Society's popular "Lunch & Learn" series. Tickets are $35 for members and $45 for nonmembers. Sponsorship opportunities also are available. Tickets available here.
The Wellington Historical Society is a Florida non-profit charitable organization driven by dedicated residents with the goal of preserving the unique history of the Village of Wellington.
THE WELLINGTON HISTORICAL SOCIETY IS A 501(C)(3) ORGANIZATION AND IS REGISTERED IN THE STATE OF FLORIDA (CH54759). A COPY OF THE OFFICIAL REGISTRATION AND FINANCIAL INFORMATION MAY BE OBTAINED FROM THE DIVISION OF CONSUMER SERVICES BY CALLING TOLL-FREE (800) 435-7352 WITHIN THE STATE OR AT: WWW.FLORIDACONSUMERHELP.COM. REGISTRATION DOES NOT IMPLY ENDORSEMENT, APPROVAL OR RECOMMENDATION BY THE STATE.