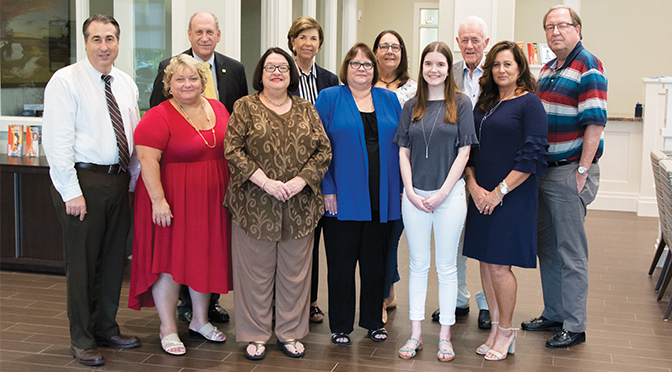 Historical Society Works On Building A Future By
Preserving The Past
Knowing an area's history provides a foundation for the culture and allows for a deeper understanding of the modern-day community, and the Village of Wellington is no different.
But, as a young community when compared to more established areas, the question arises: When does it become important to think of the past as history? The newly founded Wellington Historical Society seeks to address that very issue.
"The mission of the Wellington Historical Society is to celebrate Wellington's unique history through gathering, preserving and sharing its past for the benefit of generations to come," Wellington Historical Society President Laurie Cohen explained.
Cohen is not only the president, but also a founder of the Wellington Historical Society. She also serves as Wellington's village attorney and is a former member of the Wellington Village Council. Years ago, she traveled to New York with her husband for a high school reunion and visited a historical society while there.
"They had a building with videos, historical photographs, oral histories — and I thought, 'We should start doing this in Wellington now,'" Cohen said.
Thus, the project of forming a group dedicated to preserving Wellington's past began. The Wellington Historical Society is now a tax-exempt, not-for-profit organization, and in January 2018 held its first official board meeting.
The organization is building a solid foundation early, taking inspiration and advice from other similar organizations. When approaching the Palm Beach County Historical Society, the founders were encouraged to also begin documenting the history of the Wellington Historical Society itself.
New members can join at any time, and the society's numbers grow with each new meeting, event and mixer. Secretary MaryJo Shockley described what drew her to become a part of the organization.
"The love that I have for Wellington made me want to join. At 16 years, this is the longest I've lived anywhere," she said. "I've raised three boys here. I knew when I searched it out, this was a great community. It was the place I wanted to retire."
Board Member Chuck Edgar sees limitless potential for growth as Wellington's history expands each year.
"I'd like to see us personally do a connection to famous athletes or other notable people. We already have a Major League Baseball player and an American Idol contestant, but also council members who grew up here," Edgar said.
How exactly is history preserved? The Wellington Historical Society has already begun the task of gathering artifacts, documenting stories and developing programs, such as lectures.
"We are in the phase of collecting things like documents and artifacts, aerials and photographs," Cohen said. "The items are stored in an air-conditioned space."
Eventually, these items will have a permanent home on display for the public to enjoy, but for now, the organization is focused on growing smart. It is important to both the board and members to take care of Wellington's history in a professional and sustainable manner.
"We want to be accountable to the community," Edgar said. "We are asking them to entrust their history to us."
It is not difficult to see the future significance of unique artifacts, such as the original desk of first Wellington Mayor Kathy Foster.
"There were no council offices at the time," Cohen explained. "It was used for her design studio and mayoral duties alike."
Other interesting items include aerials and photographs of pre-developed Wellington, a Wellington board game and an old phone book from the earliest days of this growing community.
"We are working on creating traveling exhibits for use in schools," Cohen said. "We want to incorporate an educational component and work to show the schools how we came to be what we are today."
The opportunities for community involvement reach beyond the classroom.
"Not only the schools, but I envision our active seniors and other organizations being interested in seeing the artifacts they were a part of. It's going to span all age groups," Edgar said.
This means that members can do much more than attend meetings. There are also a variety of volunteer opportunities.
"We are a solid place for volunteers to put their time and investment into," Shockley said.
Depending on a volunteer's interests and talents, there are tasks for all cross-sections of the community. Research, archiving, computer program development and curriculum design are just a few of the available options.
But, as Edgar pointed out, all this work takes time and money.
"We do look for financial support from the community because this is not free," Edgar said. "We are doing our best to make it easy to support us. Fundraising is a means, but not our No. 1 goal."
One way to be a part of Wellington's history forever is to participate in momentous events, like the organization's upcoming New Year's Eve Gala.
"This is a significant date for Wellington. The first certificates of occupancy were issued on Dec. 31, 1973. We were incorporated on Dec. 31, 1995, and the Village Hall opened on Dec. 31, 2010," Cohen said.
The New Year's Eve Gala will be held on Monday, Dec. 31 at the Wellington National Golf Club. It will be a party filled with dancing and cocktails before watching the ball drop at midnight. Guests can purchase tickets online or by mail, and sponsorships for tables at the party are available. Call Event Chair Karen Cavanagh at (561) 798-9254 for more information.
"We want this event to be so successful it will become a part of our history," Shockley said.
To learn more about donating items, funds, volunteering and events, call (561) 227-1582 or visit the Wellington Historical Society web site at ww.wellingtonhistoricalsociety.org.