Lunch & Learn: Harvey E. Oyer, III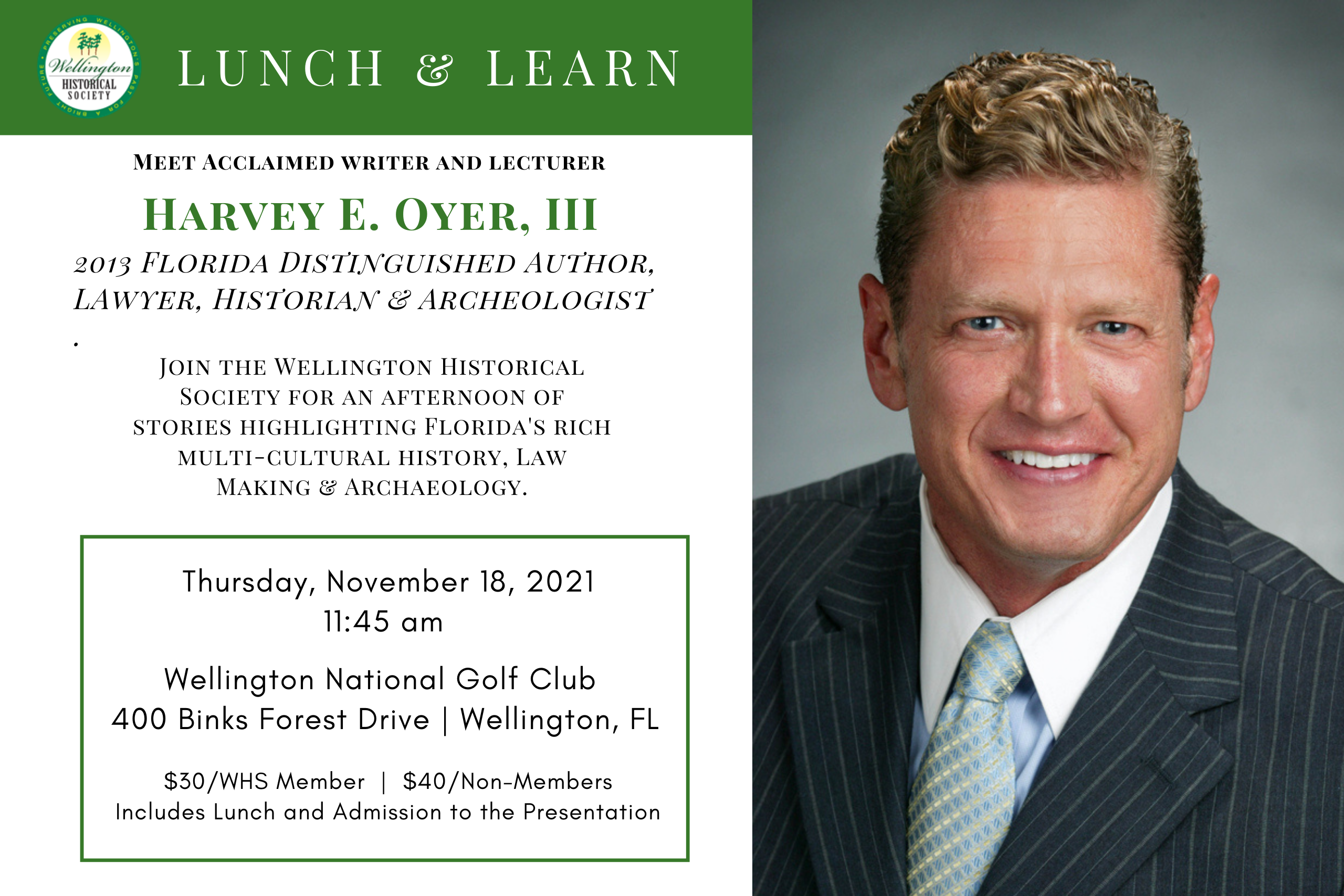 Start time
2021-11-18 11:45
Finished Time
2023-10-01 15:20
Address
400 Binks Forest Drive, Wellington, Fl 33414
Content
The Wellington Historical Society will host an afternoon discussion on Thursday, November 18 at the Wellington National Golf Club.
This is the first Wellington Historical Society Lunch & Learn event of the 2021 series.
The discussion will feature Harvey E. Oyer, III.
Harvey E. Oyer, III is a partner in the law firm of Shutts & Bowen LLP, and formerly an Adjunct Professor of Law at the University of Miami School of Law and an Adjunct Professor at the Florida Atlantic University Honors College.  He is a fifth generation native Floridian and served for seven years as the Chairman of the Historical Society of Palm Beach County.  He served as Chairman of the Chamber of Commerce of the Palm Beaches and is presently a Director of the Business Development Board of Palm Beach County, Good Samaritan Hospital, the Forum Club of the Palm Beaches, and the South Florida Science Center.
Oyer has received numerous awards, including selection into Best Lawyers in America, the Thomas Jefferson Award for Public Service, and the Ellis Island Medal of Honor.  In 2010, he was awarded the Judge James R. Knott Historical Contribution Award by the Historical Society of Palm Beach County.  In 2009, The Florida Trust for Historic Preservation gave him their Individual Distinguished Service Award and in 2008 the Florida Association of Museums named him Trustee of the Year.  He was named one of the 100 Most Influential Floridians by Florida International magazine and one of the 25 Most Powerful People in Palm Beach County by the Palm Beacher magazine.  Oyer is a noted writer and lecturer on topics ranging from law, history, and archaeology to international laws regarding antiquities trafficking and cultural property protection.  He holds degrees in Economics, Archaeology, and Law, was elected to Phi Beta Kappa, and was a Rotary Foundation Scholar at the Australian National University.  Oyer holds a Masters degree in Archaeology from Cambridge University and worked in various parts of the world as an underwater archaeologist.  He is a member of the Explorers Club, has skied to the North Pole, and served as a Captain in the United States Marine Corps.  He is also the author of a best-selling, award-winning children's book series that is widely used in schools throughout Florida.  Oyer was the 2013 Florida Distinguished Author.
This Lunch & Learn event provides a rare opportunity to learn from the acclaimed lecturer and author. Tickets are available for $30 for Wellington Historical Society members and $40 for non-members. The Lunch & Learn will include a plated lunch.
Commencing at 11:45 a.m., attendees will enjoy the gourmet luncheon, catered by the Wellington National Golf Club, as well as the opportunity to mingle and network with others. The presentation will begin promptly at noon. To learn more about the Lunch & Learn, e-mail info@wellingtonhistoricalsociety.com or call 561-793-7596 to RSVP to WHS President, Sue Bierer.
Tickets available at: https://www.eventbrite.com/e/lunch-learn-harvey-e-oyer-iii-tickets-166942500513